Saturday 2014.09.06 – Day 6 at the Getxo Bowl-A-Rama 2014
Contest day was going off. The energy and the level of skating had been building up all week and it got even more intense on Saturday.
When we got to La Kantera at about 8 in the morning there was aready a line of people wating to get the best places in the bleachers. And a couple hours later when the contest started the area around the pool and the hill facing the skatepark was packed with spectators. This definitely was one of the best contests this year, with a rad spot, sunny weather, BBQs, tapas, beers, vine and some super nice people in the Bask Country.
Overview

The Masters
Wolfgangster graps his nose on this frontside grind over the deathbox. He had the best time in Getxo shredding with all the masters from around the globe and enjoying some tapas and a few beers after the sessions.

Sean Goff – 50/50. He also did his trademark Toddtwists, frontside rocks and sweepers.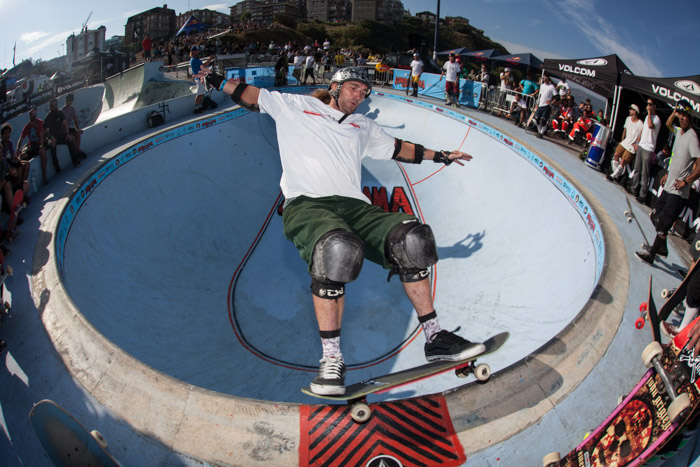 Salba doing what he does best, shredding the pool with hard lines and throwing slob airs, tailsides and nosegrinds in the mix.

Jean Terrisse took the Eurolines bus from Marseille and shredded the pool coming straight from from the overnight bus ride.

Pat Ngoho – style and lines with a good mix of tricks like this loooong boardslides, backside airs, fast plants and monty grinds.

Pro
Bask ripper Ian Campbell shredded the pool with hard tricks like this frontside baordslide, front feebles, backside airs, disasters and then some.

Daniel Cuervo – high solb air. Daniel was flying all over the pool all week with his slop airs and airs to fakie and inverts to fakie.

Cory Juneau skates fast and solid with tons of style and good bag of tricks like this egg plant.

Filipe Foguinho – super high stalefish. He also smashed some disasters, lien to tails and body jars and did rad inverts.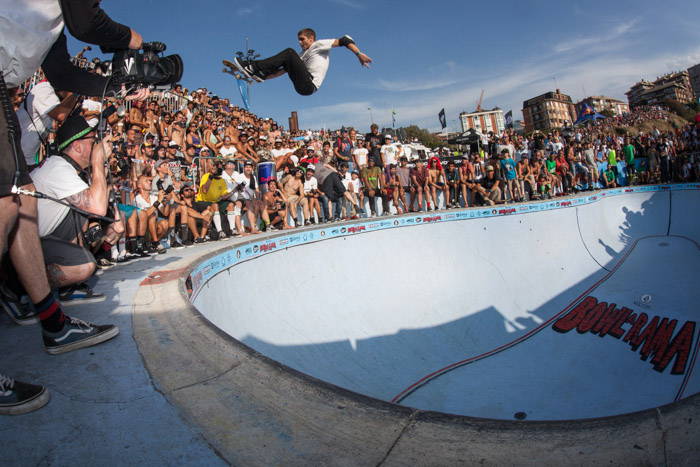 Sky Siljeg – one foot air. Sky had the crowd on their feet with his attack of the pool. Creative lines, high speed and always on edges, definitely a crowd favorite.

Danny Leon was all over the pool and made good use of the shallow and deepend with a deep bag of tricks.

Alex Sorgente skates rock solid and did some of the loudest and highest body jars and madonnas mixed with rad lines and tricks.

Pedro Barros was going off. He skated with speed, power and on the egde at all times making it exiting to watch. He did front blunts on the hip of the shallowend, high indy airs, bs stalefishes, boneless ones and liptricks like this a switch 50/50.

Raven Tershy was not in the contest but joined the after contest best trick session with some shoeless skating. FSA over the ladder.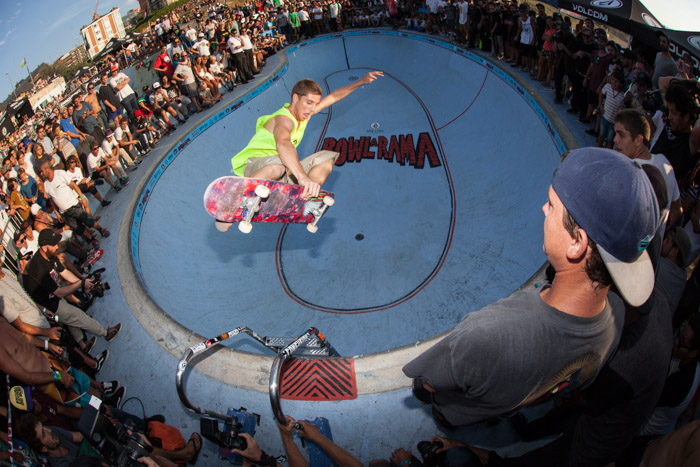 See you next year.