Corey Mcintosh Interview
Corey is a skater and wolrd traveler from Vacouver Canada.
He was in Münster for a few days skating the local spots and hanging with the local crew of skaters.
So we caught up with him to shoot some photos and ask a few questions.
Bailgun: Hey Corey, tell us a bit about yourself, where you´re from, etc.
Corey: I'm 24 years young, from Vancouver British Columbia, and just quit my job working at the rail way back home to travel.


Bailgun: When and how did you start skating?
Corey: When I was probably 11 or 12 I found one in the garage of my aunts house. Took it to the drive way to try it out and immediately did one of those slip on a bar of soap bails. The sort of ceremonious first bail that makes you decide if you wanna keep trying.
Monty grind >>> Nosepick tailgrab in the corner.



Bailgun: What's your local spot in Vancouver?
Corey: Back home I live pretty close to Hastings Bowl. So I would frequent that place a lot, especially on a friday.
Anyone who visits Vancouver that skates and likes skating bowls should come by, especially on a friday.
And what are your favorite spots?
Leeside DIY, Orcas Island, Coal Pad DIY, Squamish, Soup+ in Coquitlam and Hastings on a friday.
Bailgun: Who do you skate with?
Corey: We got a crew who loves to take weekend trips and go skate the various bowls/camp around BC and Washington. My best friends who I love so much.

Frontside rock at Hans' OMSA Pool



Bailgun: Who are some of the underrated skaters from Vacouver/Canada?
Corey: A few. The list goes.
Jeff that Rips, James Clark, Adam Richter, Ryan Siemens, Jamie Walker, Derek Swaim, Sam Lind, Magnus Hanson and Dave Dolan.
Bailgun: You've traveled quite a bit, any favorite locations or special road trips?
Corey: Back home it's the drive down to California. I had motorcycle for a bit so that was the perfect excuse to fly down a highway and skate every park on the way. I just got back from 2er on fire in Hannover and that was something else, the best DIY I've ever skated in my life. Also, Hamburg is a really special place to me.
Bailgun: Is this your first time to Europe?
Corey: That I know of.
Bailgun: How do you like it?
Corey: It's great, the freedom to travel between countries in such a relaxed way is such a luxury. Every country has its own unique culture, and in such confined spaces. I'm also so thankful you all speak such good english.

Classic frontside grind on pool coping – the best sound and feeling there is, simple as that.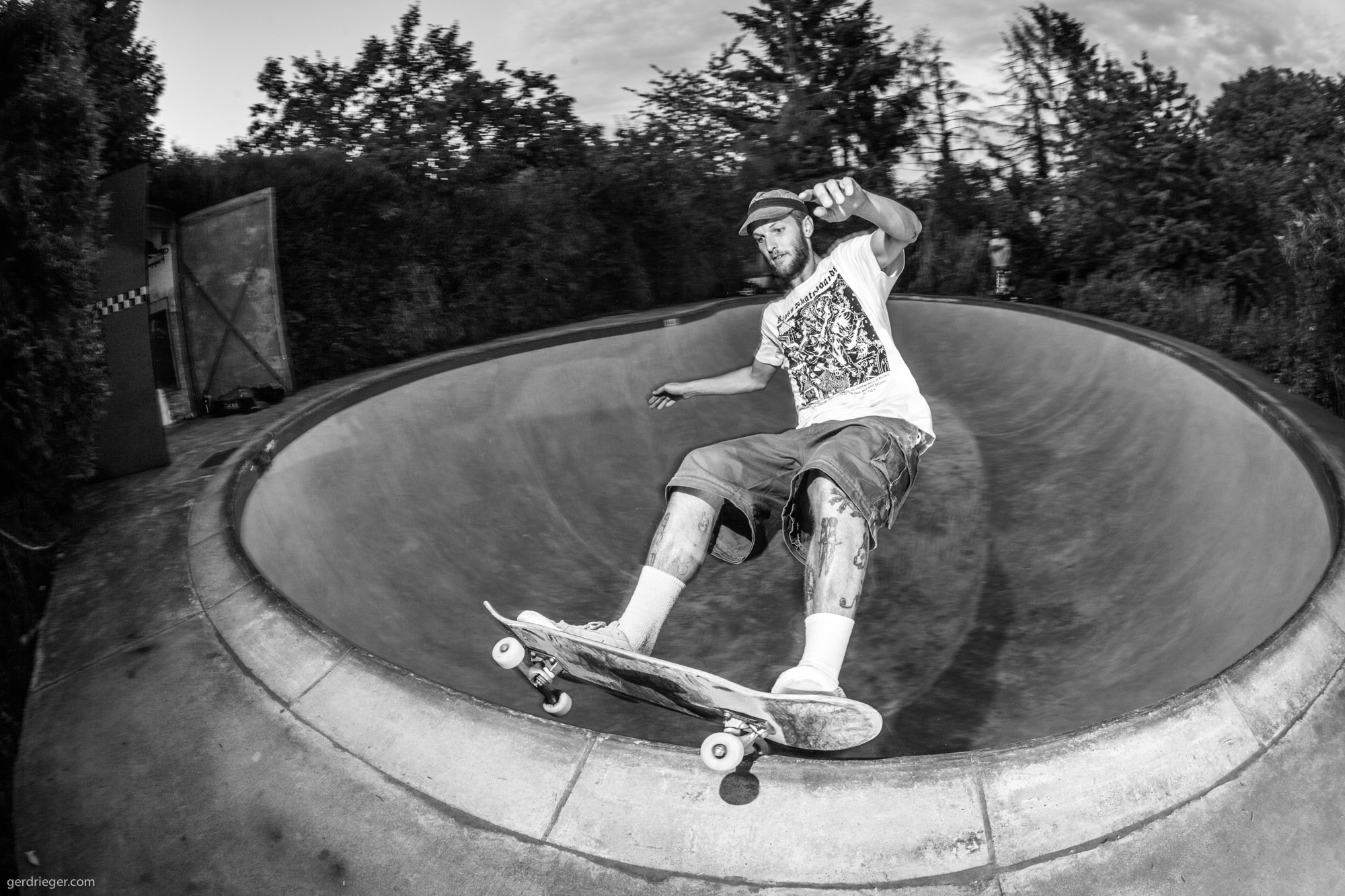 Bailgun: How do you get in touch with the locals? Is it easier or harder in some places?
Corey: That's probably the one plus side of social media. You can just say you're going somewhere, and the network of skaters provides.
If not, just trying to show up to skate parks after 5 so people are actually off work. I don't know how many spots i've skated by myself in the middle of the day!
Bailgun: You´re planning to stay in Münster for a while, you must like it.
Corey: Münster was the first place in Europe where I felt like I was at home. My first day I met everyone at Berg Fidel, and the session was on!
I knew this was something I wanted to be around more. I even tried leaving! I went to the Netherlands amd Belgium. Then on my way down to Zurich I changed my mind at the train station in Luxembourg and went back up to Münster. Now I live here! I'm gonna become the Speck Brett world champion. Not sure if I spelt that right but I love the game.
Bailgun: What's your favorite terrain to ride?
Corey: Bowls with long walls and Hips.
Bailgun: Backyardpools?
Corey: There's a few in Vancouver if you talk to the right BMXer.
Bailgun: DIY?
Corey:Leeside, Coal Pad, Cow Palace, Hannover.
Bailgun: Legendary spots you wanna visit?
Corey: Mechelen, Helsinki (for the Hellride), Marseille, Moscow and Bali.
Bailgun: Tricks you like? Tricks you want to learn?
Corey: Big fan of people who fuck tricks up and still manage to roll away. I'd take seeing someone almost lose it all and hold on over a crispy clean perfect trick. I want to learn inverts so bad but still can't quite grab the coping!
Bailgun: What setup do you ride?
Corey: I ride the single greatest boards in all of Europe. Koloss.
Bailgun: What do you do when you're not skating? Music? Art? etc.?
Corey:I subscribe to the idea of saying yes. I want to try anything that comes my way. Anything new. I like to paint, but this winter i want to finally sit down and learn how to play the piano.
Bailgun: Sponsors?
Corey: Koloss
Bailgun: Shout outs
Corey: Everyone back home. I love you. I hope you're all having fires and getting outta the fucking city.
Parting shot: Corey is down with KOLOSS!!! FSA over the hip.